Thermography
Infrared Thermography is another nondestructive technique for detecting a variety of electrical and mechanical faults. It is a valuable tool for a complete predictive maintenance program and has been proven to reduce plant maintenance costs and improve process efficiency. Infrared Thermography can be used to:
Check for loose or faulty electrical connections
Excess friction in machinery and mechanical systems
Defective steam traps
Plugs or restrictions in process piping
Verify process tank levels
Check for faulty insulation or roof leaks
Electrical overload or current imbalance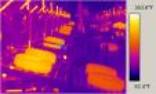 Benefits of a thorough thermographic survey include:
Increased safety
Improved system reliability
Reduced unscheduled outages
Reduced maintenance costs
Improved efficiency and performance
Quality assurance of new installations and repairs
We provide a detailed fault report that is easy to understand. Each report includes equipment identification, temperature readings, probable cause of each fault and recommended corrective action.